By Slave Desiree in Honor of
PRINCESS SIERRA
PRINCESS SIERRA, YOU are the Essence of Perfection. Yet, YOUR Perfection is that of an indescribable comprehensiveness. For what can there be in the universe that is not to be found in YOUR realm. YOUR very height of 6' 1" manifests the ultimate in Womanhood. YOU show all but the tallest of us mere mortals that YOU are to be worshiped and looked up to. And even those taller than YOU must be humbled and drawn downward to YOUR beautiful feet with the most exquisite set of toes ever beheld by human eyes.
I can only imagine the feel of YOUR soft, silky skin covering every inch of YOUR Womanhood. What man with his pulsing erection could ever penetrate the perfect pussy of my PRINCESS SIERRA in a way more pleasurable than the touch of YOUR own fiery fingertips? The eruptions of volcanoes and the quaking of the earth must be considered infantile compared to the movements of my GODDESS SIERRA'S own special eruptions. If only I could ever witness such a natural phenomenon. No, my MISTRESS SIERRA lacks for nothing in HER awesome realm of existence.
It is merely blind luck, which gives the male species any purpose in the scheme of the DOMINANT DIVA. For the male species per chance provides occasional entertainment and is allowed to tickle the fancy of the SUPREME GODDESS of the universe, otherwise to be known as The DIVA BITCH From HELL. Without the salvation of YOUR continued toying, all males might be destroyed by YOUR wrath, O' BITCHING BEAUTY. YOU know the secret desires and fantasies of men and just how to use these to keep us in our proper places, under YOUR heels awaiting whatever liquid gifts YOU feel inclined to dispense. These precious gifts may include the ocean spray of YOUR saliva delivered promptly to eager faces, or the golden nectar of the QUEEN'S kidneys.
Beyond these direct manifestations of YOUR wonders of the world, PRINCESS SIERRA, is YOUR awe-inspiring, dynamic personality. To those uncultured swine who cannot appreciate magical enchantments of my often cruel and occasionally merciful PRIMMADONNA, let them realize that they are truly possessed by demons of the worst kind and jump headlong over the highest cliffs they can find. For had these pathetic pukes ever been able to observe the subtleties of YOUR ways, these swine might have beheld the compassion of an owner for her loyal doggy.
What dog does not need a good beating and begrading now and again for improved behavior? This does not mean that the dog has no significance to its OWNER. Yet, just a horny dog who wants to hump his OWNER'S leg gets kicked across the floor and left to lick his own wounds, YOU, MISTRESS SIERRA, know how to kick a man across the room and let him slurp up his own up his own cum. Better yet, YOU may even let such a dog go around sniffing and licking up other doggies for practice. For my WISE PRINCESS knows that once the mutt associates his disgusting behavior with his well deserved punishments, he will automatically hang his head in shame whenever he gets caught engaging or fantasizing about such behavior. Being a MASTER of such tools of manipulation, my QUEEN of COMEDY controls completely both the mental outlook and the physical functions of HER stud puppies.
Some of YOUR slaves, such as myself, deserve to suffer the degradations which we would have placed on Women had we been allowed to continue living as men. Such is the power of YOUR precious panties to feminize a poor excuse of a man like myself. For just as the golden lasso of Wonder Woman binds it captives to the truth, so too will YOUR pussy covers bind me eternally to YOUR spell. Tucking my penis between my legs and putting on YOUR precious panties will finally provide a sense of purpose to my life as YOUR humble sissy slave, denied the privileges of traditional heterosexual intercourse for ever. My sense of self-volition will be forever subverted to any and all of YOUR whims from the most diabolical to the most merciful.
Please PRINCESS SIERRA give me a small place in YOUR
Awesome Universe, and I will be
Yours Always & All ways

---
My Favorite Links
PRINCESS SIERRA's Domain
Desiree's Diaries
Desiree's Diaries II
Newest Des Diaries
---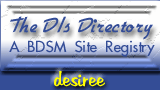 ---
---
This All Ohio Transgender Ring site owned by Desiree.
[Skip Previous 5 sites][Previous 5 Sites][Previous][Skip Previous][Skip Next 5 Sites]
[Next 5 Sites][Next][Skip Next][Random Site][List Sites]
---
To learn more about serving
HerRoyalHighness PRINCESS SIERRA,
visit Her Site at BitchyBeauty.com

Copyright © 1998-2001 iLoveSierra.com