Note: All links are highlighted and underlined.
To view pictures, simply click on the links.

I smile with delight in the privilege of serving someone as She
but I cannot believe what Princess Sierra has done to me!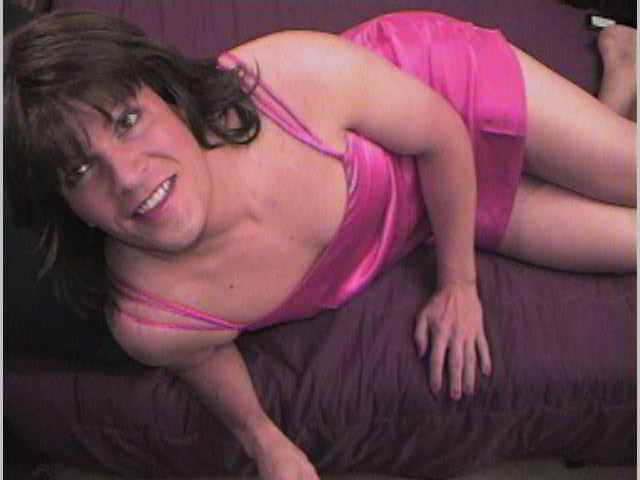 Dear Diary,
My life has been in turmoil throughout two failed marriages. I realize now that I am not suited for such traditional relationships. During the process of my second failed marriage, I tried to teach my wife a lesson that if she was no longer interested in my penis, I would just get rid of it and become a woman. Of course she could not believe (nor could I) that someone like me could ever really do such a thing, so I began going through the process of finding doctors to facilitate such a change just to convince her that if she didn't want to lose it she'd better get busy and use it. But my bizarre plan failed and I finally conceded to the idea that I would just have to settle for being a lonely wanker for the rest of my life. How fortunate for me that even though I knew I could never expect to succeed in the traditional type of heterosexual relationship that I had grown up expecting, I might be able to establish some kind of a Domme/sub relationship if I could find a Mistress who would have me.



Dear Diary,
I have found the most Awesome Mistress in the world! She has overwhelmed me with Her self-confidence & unique charms. During my very first conversation with Her (which was worth the cost of every single minute), Princess Sierra skillfully took charge and pried into my deepest & darkest secrets. Detecting my as yet unrealized sissy tendencies, my new and Ultimate Mistress decided that a course of permanent feminization was right for me and that I would be the one to learn the lessons--not my ex-wife. Although it had always been my deepest & darkest fantasy to be able to know what it feels like to be a woman and had even begun taking electrolysis and hormone therapy, I was terrified at the thought of really going through with it. I had never really thought of myself as a sissy and had always planned to stop my little game after the divorce. Princess Sierra, however, removed this option and gave me a list of COMMANDMENTS under which to begin living my newly transformed life. And to gain some of the personal experiences of traditional heterosexual relationships from a female point of view (at least the way us men imagine it ought to be), Princess Sierra demanded that I take some sexy pictures of myself all dressed up as Her new sissy slave Desiree. After scanning these PICTURES and sending them for approval, my new mistress told me exactly what to write in the sleazy personal ads she commanded me to place in various magazines and newspapers. Fortunately for me, the newspaper ads were deemed inappropriate for the local papers and the Ohio Connections magazine ad took a couple months to come out. This gave me more to time to be mentally prepared for my new lifestyle transition.



Dear Diary,
I have complied with Princess Sierra's Commandments and mailed every single pair of male undies to Her PO Box so that I shall never wear them again. I have vowed to keep Her COMMANDMENTS, which include wearing female panties exclusively.



Dear Diary,
Princess Sierra has challenged my undying obedience to Her by ordering me to go on a late night shopping errand in half drag. I was to wear a bright pink bra underneath a white man's shirt tied into a knot in the front--Daisy Duke style. She also made put on bright pink lipstick, jeans, and some loud female flats then go shopping for some KY jelly & either a banana or a cucumber and send Her the receipt. As if this were not humiliating enough, I also was ordered to go to a gas station with a female cashier and purchase a copy of PlayGirl Magazine. For the first part of the trip I went to a Meijer store and intended to park at the end nearest the items I needed to find, but ended up walking nervously through the whole store to find them. I was so relieved to be out of there with only some funny stares. Then I went to a couple gas stations with female cashiers and told them, "I'm supposed to see if you sell PlayGirl Magazine." None of them did, so I went back home to report in to Princess Sierra. She was furious for two reasons: first, that I did not say that I wanted a PlayGirl Magazine for myself; and secondly, that I did not find one. And even though by this time it was nearly 5 o'clock in the morning, She yelled at me to "Get you ass back in that car and find one!" and hung up on me. Needless to say, I scrambled out and started asking all the gas station attendants I could find if they knew where I could find a copy of PLAYGIRL MAGAZINE. Finally, I found one at a Dairy Mart, bought it, scanned the cover, and sent it to my overpowering mistress. I would have done anything to avoid being banished by Her. By this point I was already thoroughly addicted!



Dear Diary,
After what seemed like an eternity of being restricted to mental manipulation by telephone, I was blessed with the privilege of meeting Princess Sierra in person! I eagerly followed Her every direction for the chance to gaze upon Her awesome beauty in person. I put on some bright pink lipstick at the beginning of my journey, which I found to be an instant cure for my occasional bouts of road rage. I stopped en route to buy my Princess some live pink flowers. When I got near enough to call for final directions, Princess ordered me to freshen up my lipstick and stop at a UDF to buy Her a peanutbutter-chocolate shake. Surprisingly, I only received a few prolonged stares and wondered if the people there were used to seeing nervous servants of the Princess. By the time I knocked on the door of my Princess, shake and flowers in hand, I was so weakened from the anticipation that I hardly made a sound on the door. The greatest moment of my life took place as finally I was graced by the young, beautiful, and vibrant presence of Princess Sierra! She took the items from my hands and ordered me to take out Her trash. Soon I was allowed inside and ordered to get all sissied up as Desiree. My Princess then placed restraints on my wrists, a dog color around my neck, and a bright pink leash to the color and led me to Her car where I was secured to the back seat. Princess had considered putting me in Her trunk, but because of the extreme heat that day, took pitty on her new foo-foo puppy. Princess had some personal affairs to take care of so She parked the car and ordered me to pull out that little atrocity between my legs, which grew nervously only to be beaten with Her handy little COCK WHIP, which left some stinging little marks. So I sat there like a good little sissy-bitch anxiously awaiting the return of my mistress. Next, She took me and dropped me off at a costume and party shop with instructions to return to the exact same spot in the parking lot only after purchasing either a maid's outfit or a bunny outfit. After my leash and wrist restraints were removed, I was ordered to skip all the way across the parking lot, but for some reason I only skipped half way and walked the rest of the way. My ass was severely warmed for this offense latter on. Only able to find a maid's uniform, I purchased it and returned to the exact spot in the parking lot, which was now vacated. All I could do was to stand there and pray for my Princess to return. After a while, She picked me back up and then dropped me off at an adult book store with instructions to purchase a larger butt plug than the one I already had along with a strap-on dildo and a magazine called "TV Hooker." Again I returned to the parking lot where a guy in a car was trying to pick me up before my Princess returned to rescue me. Once back at the abode of my Princess, I received some more cock & ass whipping and was order to insert my new butt plug-zilla. This was no easy task, but I struggled to accomplish the task for my Precious Princess who wrote out a GROCERY LIST and sent me to do Her grocery shopping. I attracted a bit of attention at the grocery store, where, to find everything on the list I had to go down every single isle. Two young guys followed me for awhile making complimentary comments to each other about me until they realized what I was and then they started calling each other faggots. When I was walking out of the store, a hispanic man offered me a ride, which i kindly refused. I knew I had to hurry back to do some aerobics with my strap-on secured to a chair as well as to learn how to make some sissy salad as my Princess had told me earlier that I must do. After returning and putting away the groceries, I received permission to go to the bathroom. But soon after sitting down on the toilet, I heard a voice saying, "What are you doing in there?" I left the door partially opened so as to avoid any suspicion of wrong doing in such a sacred place. Soon I learned that the voice was a friend of my Princess named Becky who shouted out to Princess Sierra, "She's pooping!" I was so embarrassed, but my intention was to avoid any subsequent embarrassment during my up coming STRAP-ON AEROBIC WORKOUT. After a good workout, I was instructed on how to make my sissy-salad, but when it came time to squirt some SISSY SALAD DRESSING, I was so overwhelmed that I could not perform! So, I was forced to endure some more SPANKING & SUCKING instead.



Dear Diary,
I have never gone so long without masturbation as I have somehow been able to go under the spell of Princess Sierra. She has decreed that I shall not be allowed to cum again until I suck a real cock and send her the polaroid proof! So I got all dressed up in a sexy black dress and called Princess Sierra before going to out cock hunting. Knowing that I was serving my mistress by such self degradation was
inspiration enough. I headed straight for the local adult book store hoping to score quickly and get it over with, but no luck there. Next, I went to the bar next door and stirred up some attention. Unfortunately, the fat drunk who sat next to me probably probably couldn't have gotten it up anyway, so I walked out. To my surprise, another man followed me outside and asked, "What's it take to get a piece of that? That sure is a nice ass." I was so desperate to gain permission to cum that I did not hesitate to tell the man that I'd love to suck his cock if he'd take
a picture of it for me. Shortly thereafter, I called my Precious Princess to report the good news. She ordered me to get my ass home pronto and scan the picture for Her. She was not happy with the quality of the picture, but still allowed me to finally explode all over my own face. What a relief! And I did not even mind licking it all up at my Princess's command.



Dear Diary,
On my way home from the most recent session I had serving Princess Sierra, She had ordered me to ride home on my strap-on dildo with my skirt pulled up. Unfortunately, I was so excited from basking in the beauty of my Princess that I could not sit still or keep my hands from wondering all over myself. Consequently, my driving was not as cautious as it should have been and I got the attention of a police officer. It's bad enough that I no longer look like my driver's license (especially dressed en femme), but I could not get up from my car seat without leaving my STRAP-ON DILDO behind. So, when ordered to step out of the car, all I could think of to do was to get close to the officer and hope to distract him. But all I accomplished was looking like a floozy since the nosey cop shined his flashlight inside of my car and spotted the culprit. Of course this just gave him an excuse to search my purse as well where he found a pocket knife and decided to arrest me for carrying a concealed weapon! I could not believe he was arresting me! I think he just wanted to show me off at the station because people seemed to come out of the woodwork to get a look at me. I suppose I should be thankful they let me keep my wig on for my mugshot, although the lighting was very harsh on my face.



Dear Diary,
It has been so long since my last self administered cum facial earned by sucking cock on command for my Princess. So Princess Sierra decided that if I really wanted to cum again, I would have to find another cock to suck. So, she dropped me off near an adult bookstore with my polaroid. Having no luck there, I called the Princess to report my failure. Of course She had a solution for my dilemma:
She brought me a sign to hang around my neck, which read "BLOW JOB
QUEEN." Of course the sign worked in no time after Princess Sierra
dropped me off in a parking lot near two gay bars. Having accomplished my task in
the front seat of a car, I was finally allowed to go home and call Princess Sierra
for permission to give myself what was to be my final CUM FACIAL.



Dear Diary,
Princess Sierra has decided that, just as the eunuchs of ancient times, the price I must pay for being so near my Princess will be abstinence from bringing myself to climax. This is something I never would have imagined possible. But with help from the hormone therapy my Princess has ordered me to accelerate as much as the doctor will allow and the daily chores I have been performing for my Princess, I have had very few piggly distractions. When I first spoke with Princess Sierra, I had no idea how to make web pages. But under Her awesome inspiration, I spent hours and hours day & night entertaining my Princess between calls and learning learning about web publishing in order to assist Her in overhauling and expanding Her web sites.



Dear Diary,
I have never had so much of a sense of accomplishment in my life as I have felt from serving Princess Sierra. Her most recent endeavor has inspired me to build Her a SEVEN-FOOT TALL ROYAL THRONE. I have never built or even seen anything like this before, but knowing how deserving Princess Sierra is of my absolute best efforts, this divinely inspired labor of love manifested itself effortlessly from my weakened and sissified hands.



Dear Diary,
I was so excited to deliver the the throne to the new temple/dungeon room Princess Sierra is preparing with Her partner, Saint Chloe. Those truly submissive piggies able to obtain permission to worship and grovel at this new location will be blessed indeed. I myself was blessed on this day with the privilege of shopping with my Princess for some items for the new location. As we entered Meijer's, I had to wait outside the ladies' room while Princess filled her mostly empty water bottle with Her own sacred golden nectar for me to sip on during the shopping trip as I pushed the shopping cart behind Her. Of course we stopped by the perfume counter where Princess Sierra picked out some cheap perfume (Exclamation) to spray heavily all over me so that I had to keep an even greater distance from Her. Afterwards, smelling like a French whore, I was made to get all dressed up and go out to find another cock to suck even though this time, I would not be rewarded with the privilege of masturbation to climax. But my Princess knows now that She has me so enraptured that the only reward I need is the knowledge that I am following Her commands and keeping Her good graces. Princess showed me where a few of the local gay bars were and told me to go from bar to bar until I found my cock for the night. I got an early start that evening I finally settled for the last guy to proposition me. I went to his apartment and let myself be used as a
little cock sucker and piece of ass for this horny pig who wore my ass out by fucking me for what seemed like forever as he kept trying to sneak and fuck me without a condom. So instead of being able to relax and "take it like a man," I had to keep reaching back to make sure the condom was still there. All I could do was think of this as retribution for the dirty deeds I have done to women in the past. I have always accepted anything my Princess has said as the gospel truth, but now I am beginning to understand for myself that men really are pigs.



Dear Diary,
Princess told me that another sissy slave gave Her a web site showing surgically created TS pussies and that She was picking one out for me. But She was still undecided as to whether she would let me graduate to that level or if She would make me keep my mutant appendage for humiliation purposes. She has also completely taken over my income which is now being directly deposited into an account that She can access and remove all but what She deems necessary for my frugal life of servitude. There is no doubt that I belong to Princess Sierra, ABSOLUTELY!



Dear Diary,
I was saddened to learn that my Princess was feeling a little bloated today as we were about to begin our period. (I say "we" because I must always wear my own tampons whenever my Princess does so.) But Princess Sierra does not accept sympathy. She demands empathy. [If you don't know the difference, look it up.] So, She ordered me to give myself an enema and hold it the whole time I was doing my assigned tasks on Her web pages. I never felt so much empathy in my life! I kept thinking I was going to have to run to the bathroom to avoid wetting my panties, but when I tried to get up too quickly the pain in my bloated stomach prevented me. Eventually, the pain would subside for awhile before returning for another round. By the time I finished working on my assignments, I could barely make it to the telephone to call and beg permission to release myself.



Dear Diary,
I kneel before my computer to type this entry because I was so unorganized today as to be LATE for my appointment to deliver the second throne to Princess Sierra and Saint Chloe. Consequently, once the thrones were set up, I was the first to receive a sound ass whipping while kneeling over the pedestal of one of them, and now my ass will not stop stinging! And of course, before being dismissed, Saint Chloe found a nice rotten banana in the garbage for me to eat. But worst of all, I lost some favor with the Goddesses. Being late is not fun & games to them. I seriously advise anyone reading this to NEVER be late and even worse, don't ever be a NO-SHOW.



Dear Diary,
Today I had a bit of an identity crisis as I received my drivers license and hardly recognized myself. But when I scanned and sent it to Princess Sierra, she said I should have worn even more make-up! I feel like all that I have left of my manhood is my name and my cock. But with all the time I spend as a phone slut now it seems that more people know me by Desiree than by my male name. And my cock is not even mine to use as I choose anymore. I'm not even allowed to masturbate to climax until Princess Sierra uses me to humiliate some other guy in a live session by cumming all over his face. She wants Her slaves to rest assured that I am immaculately clean and safe by keeping me totally abstinent. I am further tormented by the fact that the only Pussy I get to worship will be through Her Precious Panties which I am still anxiously awaiting from Her. I am sure I would have had them long ago if I had not failed in performing my sissy salad ritual so long ago. And besides these losses in my sense of identity, what I used to call my chest, I now must call my breasts! They are getting to be so difficult to hide in my day to day life. Sure, I've always fantasized about being able to see what it feels like to have real breasts and to feel like a real woman, but it was just an experiment. And now, I want my manhood back! I'm so scared to lose it forever! But at the same time, I have given my life over completely to my Precious Princess and would never want to complain or do anything to disappoint Her.



Dear Diary,
Oh Dear Goddess, what a fool I have been to have ever doubted my place in this world! I just found that package I have so anxiously awaited from YOU. I dropped to my knees and began trembling as I picked up the phone and began to open it. I left my Precious Princess a message as I most reverently pulled out the most sacred pair of panties! I vowed never to let them drop below my face, so I looked up at them and placed the PRECIOUS PANTIES on my face, I eagerly inhaled the remnants of their Divine Essence, and gently savored the enthralling flavor. This was too much for me to take as I recalled that I am forbidden masturbation. So I gently placed the Precious Panties back into the envelope and ran to RESTRICT my evil stirrings from below. With a leather shoestring, I tied each of my STUPID SACKS separately and then tied them together on top of my little man. Then I TUCKED him away, knowing that he is merely an extraneous entity who only causes me trouble. Then I secured my STUPID PACKAGE in a pink thong. What an appropriate reminder of how vulnerable my little man sacks cause me to be. And what pleasure has this little man ever really brought me? Yes, I have enjoyed traditional sex many times in my thus far wasted existence. But all those experiences of the sense of touch--namely pressure and release--do not even compare to the combined sensations of SMELL & TASTE derived from the
TRUE CENTER OF MY
SEXUAL UNIVERSE!!!



Dear Diary,
My mind is spinning as I fall deeper and deeper under the spell of my Supreme Princess. She is saving me from the tyranny of my own penis. I have learned to refrain from masturbation, where it used to be a main feature of my daily life. I have learned to refrain from sexually oppressing women with my "piss-stick." And I have learned that the true center of my sexual universe no longer resides in between my thighs. To ensure that I never again regress into the state of being ruled by my penis, Princess has led me to research male chastity through belts and piercings, but I have not yet found a safe, clean, reliable, and most of all PERMANENT method or device for such a task. At the same time, I am so enthralled by the Divine essence of my Princess that I would suffer any personal sacrifices for even a remote possibility of worshipping Her Sacred Pussy. Today, Princess Sierra showed me Her cruelest side ever and e-mailed me these haunting words:
"The only way I will ever let your unworthy tongue grace MY pussylips..is AFTER you go to Mexico and get it [your dick] chopped off the size of an olive."
I want to beg Her to reconsider and tell Her that I'd rather let Her burn or beat or torture my cock & balls as much as She wants to instead of such a drastic operation. But I know this would not be an appropriate response. I have to stop thinking of my own desires and focus on my complete submission to Princess Sierra's every whim. I must find a doctor who can safely perform such an operation ASAP. Then I will have to find a way to finance this operation, since all of my income is already under the control of my Princess and I'm sure She won't want Her money wasted on my "atrocity." I have to fight my selfish fears and focus on the Higher Good of serving Princess Sierra in ANY way She demands.



Dear Diary,
To keep me humble, Princess Sierra has made me trade in my Wig for Wings--Fairy Wings that is. Two days ago I was the Camera Fairy for upcoming debut video from From Princess Sierra & Saint Chloe. Then last night, dressed as a little fairy, I was honored to accompany the Princess as "Miss Bitch Ohio," along with the Inspirational Saint Chloe, to another great party at Lady Cheyenne's Studios. The privileges I received, of being allowed to kneel beside Princess Sierra, carry around and sip from a bottle of Precious Princess Piss, fetch Her drinks and "fly" around looking for interesting or available scene rooms or empty bathrooms, were privileges I could never be worthy of. In fact, I let my Princess down when She acquired a runner in Her beautiful pantyhose and I could not find any clear nail polish to stop the run. Fortunately, I was already swooning over the kiss I had just been allowed to place on one of the two greatest knees in the Universe, when Princess Sierra noticed that Her runner had grown into three long lines on her enthralling left thigh. These three lines earned me three harsh slaps across my cheek from the sacred hand of my Goddess. But since my head was already spinning, I did not mind at all. However, my most excruciating torment came soon thereafter when I had to sit and watch my Princess physically overpower and humiliate another sub who was at the party. I thought I could keep my jealousies hidden, but of course Princess Sierra and Saint Chloe saw right through me. They must have realized that forcing me into the role of a passive voyeur would make me feel so much anxiety as to keep me on edge, ready to do anything to be allowed to serve more directly. Even though my erection was hidden beneath my lacey-white slip & panties as I kneeled on the floor, the increased pounding of my heart must have been obvious since I was told that, while I was forced to sit and watch, my face even turned red. As the party was nearing its end, I felt so useless, empty, and forgotten. But after Princess Sierra had finished playing and noticed that She had produced some perspiration between Her breasts, my heart dropped as She called me over to lick the sweat from Her fiery fingertips. There's no doubt that I would willingly spend the rest of my life eating out of Her Heavenly Hands. But the shock and delight of my life came in the parking lot on the way out as I was ordered to drop to my "fairy knees" and
after six long months of diligent servitude to my Supreme Princess, I was finally allowed the sacred honor of
KISSING
HER ROYAL ASS!
Needless to say, I was and am still in heaven. And this was a kiss through Her panties and hose, yet well worth the wait. When I later told Princess Sierra that I'd be willing to wait another six months for the chance to kiss Her Bare Ass, She told me that something like that would be worth another three year wait at least. And I have every intention of doing whatever it takes to stay in Her Good Graces and be ready when that day arrives!



Dear Diary,
I just finished my drive home with my erect cock throbbing in pain. But what a wonderful feeling just to have the constant reminder that Princess Sierra has thus far allowed me to keep it intact! The source of the throbbing began as I painfully enjoyed serving as plaything during a visit from Lady Cheyenne to The Temple of Princess Sierra and Saint Chloe. The Dynamic Domme Duo gave me a workout before the camera of Lady Cheyenne, which included my serving as a seat for the Pernicious Pair to pose upon. Subsequently, my Precious Princess put me on the floor, sat across my chest, and teased me with an enchanting offer of Her special "French Kiss" to which I eagerly opened my mouth and received Her tobacco flavored saliva. How bittersweet was my attempt at fine tuning my taste buds to attenuate the tobacco flavor and to savor the sweet saliva of my Real-Life Goddess before Her perfect hands began cracking my cheekbones with the harshest face slapping I have ever experienced. Then I was yanked up by the leash attached to my color to make my cock & balls accessible for the Dynamic Domme Duo to beat with their cock whips and groom my pubic hairs with a WIRE BRUSH. Yet, despite the pain, even as I was hooded and placed with my balls exposed for kicking and my COCK HEELED, I could not stop smiling at my good fortune to even be in such a predicament.



Dear Diary,
Princess Sierra has been training me to understand that a slave should never take his role for granted and that from day to day Her demands might suddenly change course. My whole life is so centered on becoming the best servant I can be for my Precious Princess that I am learning that I must always be prepared for any new task or challenge my Princess decrees. I have gone from forced cock sucking for the privilege of being allowed to cum to now being denied release altogether. And since I did not want to waste my Princess's cash on those expensive chastity belts for myself, I devised my own CHASTITY DEVISE for less than $3 by using a washer hose lint filter and some nylon tie strips. By placing the filter over my soft penis and securing it with tie nylon tie strip behind my balls, the devise effectively prevented me from achieving a full erection. As my penis would swell and attempt grow erect, the lengthening of the nylon webbing material in the filter would be pulled into a tightly squeezing tube around my balls causing increasingly severe pain until my erection subsided. But my cock is extremely stupid and would turn right around and try to become erect again! And to make matters worse, Princess Sierra tormented me by telling me that if I left my penis imprisoned like this long enough to cause some DEFORMITY, I would be rewarded by a taste of Her Royal Ass. Oh dear Goddess! My helpless dumb penis would not stop struggling. Then my Bitch Princess ordered me to take out and sniff Her Precious Panties! I have never endured such pain as when this cause my whole cock to swell and little pieces of tender flesh began poking through and stinging against the NYLON MESH material. I could not sleep at all. Three days later, my penis had nearly given up the struggle but still received it's punishment as the skin itself had swollen and felt as if it were tearing against the mesh prison. I begged my Princess to let me take it off because I could not stand the round-the-clock pain. But She assured me that suffering for Her was a privilege and that I would get used to it. Of course She was absolutely correct and by the fourth day, most of the pain had gone and my only reminder was the dead weight I felt between my legs. And on the fifth day, I was allowed to REMOVE this torturous chastity devise although my abstinence was still to be maintained.



Dear Diary,
I have been so horny lately that I can hardly stand it! But My Priceless Princess has such a hold on me that I become petrified of losing Her anytime a thought of relieving myself enters my mind and this has been sufficient to secure my abstinence for these four long months now. But in my agitated state of obsession, I cannot stop trying figure out what destiny Princess Sierra will decree for me. Will She keep me forever in this gender confused state of being a sissy--neither fully male nor fully female? Or will She make me go all the way in my sexual transformation--having me castrated and filled with breast implants? Or will She turn me into Her eternally tormented eunuch with a 1 1/2 inch penis and take me off of the feminizing hormones to let the rebound of testosterone drive me mad with my unusable penis? It all makes my head spin! But then I finally regain my focus on all that really matters--serving the Goddess of my Universe. She is my only salvation, and once I realize this my madness subsides. I realize now that it makes no difference what She decrees as my destiny or even if it changes day by day. All that really matters in my life is that I give Her my best without reservation, no matter what personal sacrifices I must make.


Dear Diary,
Sometimes I cannot believe my good fortune! Yesterday, I was blessed with a visit from Her Royal Highness and one of Her friends. Since Princess Sierra always knows my schedule and knew I was at Her total disposal, She decided to drop by and throw me into Her friend's trunk. They drove me somewhere not far from my home only to pull over and yank my pants down to my ankles and ordered me to tie a rope around my own balls which was then strung through the back seat. I suppose this was devised to be sure I didn't fall asleep on the long ride to I don't know where? Next my hands were tightly bound and duct tape placed over my mouth. During the trip, the Goddesses began singing and pulling on my balls via the rope to keep rhythm with the tunes. At one point the car stopped and I was left in the cold, dark trunk for what seemed like an eternity. After they finally returned and checked on me, we were off again. On the way back, I heard them trashing truckers on CB who apparently kept trying to get a closer look. I became terrified when Princess Sierra's friend suggested that they pull into a rest stop to tell a trucker that her friend wanted to give him a blow job and then bring him to the trunk! When we stopped and the trunk popped open, I was so relieved to find that my task was merely to go into the Olive Garden for take out. I must have looked like a drunk climbing out of the trunk and trying to walk straight into the restaurant. And when I returned to the car, it was right back into the trunk. Finally, we made it back to what used to be my place--before The Goddesses took over. They came right on in and made themselves right at home--lighting up cigarettes (not even knowing or caring that I have a reputation as a militant non-smoker), going through my drawers to make sure I had no male undies left (fortunately I had truly complied with Princess Sierra's Sissy Commandments), and used me as everything from a dining table (complete with lit candle on my back) to a chair, to a foot cushion. I also received my first taste of cigarette ashes when Princess Sierra wiped the ashtray with a bread stick and heldit to my mouth. Anyone else would have had to have forced it into my mouth. But I cannot refuse anything to my Manipulative Mistress. Princess Sierra even used one of my balls as a place to put out her after dinner cigarette! But once again, my Precious Princess made it all worthwhile--this time by rewarding me with 3 seconds of kissing the right cheek of Her Royal Ass. I feel that I have truly come close to experiencing Heaven & Hell.



Dear Diary,
I know that I never would have been able to stand this long period of abstinence without the assistance my feminizing hormones. But still I have been feeling so much anxiety lately over losing my masculinity for ever and wish I could slide back into being just a part-time TV as opposed to a full-fledged TS and get off of these feminizing hormones. But I have been warned by my endocrinologist that if I suddenly stop taking my pills, I will have a maddening rebound surge of testosterone and should only do so gradually. Of course I can no longer make such decisions on my own, and now that I have brought this to the attention of my Bitch Goddess, she has began tormenting me over it. She is now contemplating chastizing me then abruptly denying me my hormones cold turkey! And knowing that I am so crazed over the possibility of tasting Her Sacred Source of Life that I am willing to have my penis radically shortened to only 1 1/2," She has even tormented me with the thought of being chastized, bound, blindfolded, and forced to smell Her Pussy Juice off of Her own finger. I have tried so hard to avoid it, but after hearing this, I could not help but to beg my Princess in vain to let me cum! And now I have the benefit of the testosterone reducing hormones. What will I do in such a predicament without them!?



Dear Diary,
After finding a reasonably priced chastity harness, Princess instructed me to order it. Unfortunately, it must be custom made and won't be ready until sometime in January 1999. But since Princess Sierra wanted me locked up before the new year, I designed a HOMEMADE CHASTITY HARNESS to suffice until the permanent one arrives. And although Princess Sierra has always had complete control over my conscience, She can now have complete confidence that no matter how much She torments me and stirs my deepest passions, I can not possibly take pleasure in some other woman's repressed pussy or even be able to go home and jack off against Her wishes. What will make this new form of submission even more tormenting is that She has also taken me off of my female hormones--cold turkey! I don't know how long it will take for the testosterone rebound to take effect, but I am already going insane from the wonderful treats I have received recently from my Goddess. Despite the sad fact that I live over 90 minutes away from the Center of my Universe, I have recently been allowed the most honorable privilege of making the trip once or twice weekly to take out Her trash and do cleaning in Her home. These tasks are rewarding enough in themsleves, just knowing that I am serving my Princess.
But the most mind boggling privilege of all was that of cooking for The Princess and then having
my FACE serve AS HER CHAIR
beside the coffee table!
It took every ounce of self control to prevent myself from opening my mouth for a taste, so I focused on
the most awesome feminine aroma
I have ever inhaled!
My final task on the first such occurrence, was to
drive all the way home with Fresh Princess Panties in my mouth. They were so intoxicating that I got lost on the way home and ended up driving around for an extra hour. On a subsequent trip, after serving again as a dinner chair,
I was finally allowed to release myself
from more than 5 long months of abstinence!
Needless to say, I was drained of all my strength and can never again offer the slightest resistence to my Most Awesome Precious Princess. Now she holds, both literally and figuratively, the key to my happiness.
After locking me up at the beginning of the last day of 1998, Princess Sierra informed me that it may well be the year 2000 before I will be allowed to splooge again!



Dear Diary,
I am learning more and more about the truths of Female Supremacy as taught to me by Princess Sierra. My experience under the influence of female hormones and male hormone blockers gave me a certain sense of serenity and freedom from the tyranny of my penis. But now I am learning more about my true male self as the testosterone begins to reassert itself and show me just how weak I really am. Fortunatley, my Princess is there to keep me under Her complete control. I feel myself growing weaker day by day as my penis would have me live with ejaculation as my primary purpose in life. But this would be such a meaningless existence. I am so thankful to Princess Sierra for training me to resist the tyranny of my penis and to focus instead on Her Divine Will. I need Her sooo badly because the testosterone is so powerful. But I realize that the blessings of Princess Sierra will cost me dearly, and I am ready and willing to suffer any self-degradation or painful experiences to receive Her Divine Enlightenment and to have a meaningful existence as Her useful servant. Many of you "nay sayers" might just assume I could not find a woman for a "normal" relationship. But I have been married twice and would have no trouble getting into another traditional relationship. In fact I still have many traditional longings such as one I expressed to Princess Sierra. I had hoped someday to be blessed with the privilege of curling up on the couch next to Her Highness and lying my head in Her lap like a little pet might do. But She quickly assured me that this would never occur and that I shold know by now that there is nothing traditional about Her. Yet, being of sound body and mind, I made the choice some time ago to surrender my whole being to Her every whim, so that I might receive enlightenment and purpose from Her. I have so much to learn, but I am becoming painfully more aware with each passing day of the absolute Supremacy of Women. I still believe in individualism, but now having a basis upon which to compare the effects of female as opposed to male hormones, I know that the male hormones makes one the weakest. Just how weak, I fear I have yet to learn, since I am already so desperate to be near and work for my Princess that I would instantly break even my own taboos and clean Her whole house with nothing but my tongue--including every ashtray! I cannot even imagine what She might have in store for me. But I know there is no limit to what I will do to serve the most awesome mistress alive--PRINCESS SIERRA!



Dear Diary,
My LONG-TERM CHASTITY HARNESS has finally arrived and replaced the temporary one. In a way this is a blessing because my Princess tells me that now She can feel safer that She can tease me more without me being able to go home and jack off. It is also a blessing since Princess has now allowed me to stop taking those female hormones which were making my chest into embarrassing looking breasts. And since I still have to work and live a major part of my life as a male, this was on the verge of causing major problems for me. I know some of those guys who call me for phone sex wish that I lived full-time as a transexual, but there are not enough of them who call often enough to make it financially feasable for me to live that way and earn enough money to regularly pay Princess Sierra significant tributes. So I am relieved to be able to return my body to its natural male state--weakened by sexual compulsiveness though it may be. On the other hand, this new chastity harness along with my increasing return of testosterone into my system have combined to make me thoroughly miserable! I cannot stop dwelling on sexual fantasies and even getting completely unprovoked erections which fight against the restraints and cause so much pain to my tender flesh! I cannot even get morning erections without suddenly being awakened by the resulting pain. And if I get a so-called "piss hard-on" the 1 inch cock ring at the end of the harness is so tight against the swollen head of my penis that I can't even pee! Now Princess thinks I am just a whimpering sissy because She knows that other guys have been able to tolerate going through chastizement. So I will do my best to toughen up and become a better slave like I know my Princess deserves. I wonder if I really am more of a whiny sissy than I thought, or if other guys have similar problems going 24/7 in a chastity harness?



Dear Diary,
I have been so messed up by my unstable hormones that I have even done what I cannot believe I have done--I have been acting like a spoiled brat and actually became critical, complaining, and all this after being late for an appointment with my Precious Princess! She is now considering putting me back on female hormones for good. But in the mean time I am going crazy and trying to patiently suffer my punishment of not even being allowed to talk to Her except to do some work for Her via e-mail and occasional IMs. How could I have been so undisciplined!? Oh dear Goddess, I swear I will never let it happen again. I can hardly imagine life without being in the good graces of Princess Sierra. I think if I ever lost Her graces for ever, I would have to go to Tibet or Nepal to join a Buddhist monestary. I know now that if She will extend Her Divine Grace to me once again, I will be even deeper into total submission to Her than ever before, fully aware of the horrible consequences of Her disfavor.


Dear Diary,
I have become such a sex driven little piggy again from my testosterone resurgence that Princess Sierra decided to exercise Her Woman's perogative and change Her mind again. She decided that I looked and acted much better as a TS than in my base piggy nature. I hadn't been to my endocrinologist in more than 5 months, so I had to make an appointment to see him. (Yes, I have a male doctor, which Princess would never have. But he does have a feminine first name and wears a pony tail.) At first Princess was only going to make me get new prescriptions for the same hormones I had already been on. But a day before the apppointment, She decided to have me try to get something stronger to speed up my transition! So this time I went to the doc in full drag to show him that I was serious about my transition and wanted to hurry it along. And it worked--he prescribed a new male hormoone blocker in addition to the medication I was already taking! Now I fear that I may be reaching the point of no return. And before long, I may not even be able to amuse my Princess by getting an erection every time She beats my cock. I just hope that whatever becomes of me will be pleasing to the love of my life--Princess Sierra.



Dear Diary,
I had known far in advance that my Princess planned a serious ball kicking scene with me for the party at Lady Cheyenne's. Yet my fear and nervousness always subside once I enter Her Divine Presence. Even the fear which had occupied so much of mind until that night was not the kind of fear one would expect. Rather my greatest fear was that of not being physically capable of taking the kind of excrutiating balls kicking that would make my Princess proud. When the time finally arrived and I was being secured to slightly backwards leaning X, I had a new fear since my Princess was going to allow another Mistress to get in some kicks too. The first few kicks are always the hardest as I get adjusted to the pain, but Princess Sierra was looking so outrageously gorgeous that night standing before me with that look like She was ready to have a blast at my expense, that all I could do was to stand there with a look of contentment and a growing erection. As She stood there looking so amazingly cute with Her tennis shoes and black & silver pom pons, all I could think of was that no matter how hard She kicked the pain could never distract me from doing my best to make Her proud. But when another Mistress took a turn, I had to struggle to keep in mind that this was being done under Princess Sierra's consent. But my subconscious resistance to being abused by another Mistress caused me to start making more facial grimaces and grunts. I had not been mentally prepared for this situation, and did not realize that I was unintentionally making it look like the present Mistress was kicking harder than my Princess. This was a big mistake. Because Princess Sierra, never to be outdone, decided to put Her boots back on and give what had to be the most severe ball kicking scene ever performed! By this time my balls had begun to try to tuck themselves away (even though the pressure was still as intense whether in or out) and the other Mistress took a rope and tied them to keep them exposed
(at least for awhile until Princess Sierra knocked them in again). Now the worst part of all came when the other Mistress blindfolded me and I could no longer see the inspiration of my life! Not sure when or even by whom I was going to be kicked next caused me to constanly strrain against my restraints, but I did my best to focus on the sweet voice of my Goddess who I knew was still in control of the situation. I continued to quietly grunt and tense up in anticipation of each unseen kick for what seemed like an eternity until finally I felt like I had died and gone to heaven. My Precious Princess came near to me, put Her hand on my chest and pushed me back against the X and whispered into my ear about how if I continued to make Her proud without passing out She would give me the dirtiest pair of panties in Her hamper. I know the crowd which I could not see must have been astounded to see such a beat up and abused slave break out in the most peaceful smile. Then suddenly I felt Her sacred knee smashing my groin several times and the kicks resumed until finally at the end I was standing there all sweaty with my pounding erection still attentive to the
Most Awesome Princess on the Planet!



Dear Diary,
I don't know how to describe the news I just received from the doctor's office concerning my most recent blood test other than amazing! I have really struggled with how far to go with this feminization process. But such decisions are out of my hands just as much as my dick has been since submitting to Her Royal Highness. And since this last visit where my Princess encouraged me to get some stronger feminization pills, my mind/body [I am not a dualist, for any of you philosophers out there] has changed much more drastically than I ever expected. Normal male testosterone levels are between 400-800. When I first was tested by my endocrinologist, mine was over 600. But even after a couple years on estrogen and a mild testosterone inhibitor, my level was still at 400 just 6 months ago. So I don't know if it was merely one month with the additional dose of Progesterone, or that combined with the decommissioning testicle destroying techniques of my Princess which caused the surprising results of my last blood test. But my testosterone level is now suddenly down to 123! And the doctor put a note beside the results saying, "Only surgery will get it much lower!" Women have a testosterone level of 40-80, but the doc told me a long time ago that medication would only get me down to around 120. And here I am! I don't know whether to be happy or sad. But I know that what I am doing is not a game and is positively for real--like my Princess! She is a for real and expects nothing less than real compliance with Her every command. I have been accused of being foolish and in danger of being destroyed by Her. But I say that only a fool could resist Her.



Dear Diary,
My boobs are everywhere! They are sore, sensitive and always being brushed against something or worse somebody! Even when I go to work and try so hard to hide them, I notice them constantly being brushed up against some coworker as we pass each other in a hallway or something. And it makes me feel so violated and exposed! I have been taking measurements at the ribs underneath my new breasts and it has remained constant at 34" but the measurement across my nipples has been around 39 3/4" to 40." But this morning I measured them at 41 1/4"!!! No wonder they are always getting in the way as I try to sleep at night. I do love them secretly in my bed at night, but during the day I am sooo embarrassed and have noticed people looking in that direction more often than ever before. Yes, my Cleverly Cruel Goddess has devised a punishment for me even more humiliating than the one of making me get my penis cut off to 1"--at least then I would have been able to have hidden it!